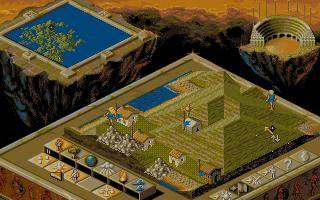 Populous II: Trials of the Olympian Gods on Bullfrog Productionsin 1991 tekemä strategiapeli Amigalle, Atari ST:lle ja PC:n MS-DOS:ille.
Jatko-osa on pitkälti samankaltainen ensimmäisen osan kanssa, painottuen kuitenkin enemmän Kreikan mytologiaan. Pelissä pelaaja asettuu Kreikkalainen puolijumalan, Zeuksen lapsen rooliin, ohjaten omaa kansaansa voitokkaaseen taistoon vääräuskoisia vihollisia vastaan. Pelissä on vastakkain aina kaksi jumalaa, joista kumpikin pitää toistaan vääränä. Tehtävänä on saada oma kansa tappamaan vihollisen jumalaa palvovan kansan. Voittamalla kaikki vääräuskoiset, Zeus lupaa pelaajalle paikan Olympuksen Pantheonista.
Populous II on edeltäjäänsä monipuolisempi eri toiminnoissa, joita peliin on lisätty useita kymmeniä. Pelin jumaltoiminnot on jaettu kuuteen eri kategoriaan: maa, vesi, ilma, tuli, kasvit ja ihmiset. Jokaisella kategorialla on oma kasvava voimamittari, joita voidaan käyttää vitsauksiin. Voimamittari kasvaa ihmismäärän mukaan, joten suuremmalla asukasluvulla vitsauksia voidaan käyttää enemmän. Samaan tapaan, kuin ensimmäisessä Populous pelissä pelaaja voi käyttää jokaisessa kuudessa kategoriassaan erillistä ritaria, joista jokainen vastaa yhtä Kreikan mytologian hahmoa. Jos pelin toinen osapuolista valtaa kartta-alueesta noin 75%, muinaiset Kreikkalaiset hirviöt kuten Medusa ja Colossus alkavat vaeltaa kartalla tehden tuhojaan. Tällä pyritään välttämään liian pitkiä pelisessioita.
Jos pelaaja on voitokas taistelussa, palkitaan pelaaja ylimääräisillä bonuksilla tehtävän jälkeen. Bonukset riippuvat kuinka ylivoimaisesti vihollinen on lyöty, mitä voimia viholliseen on käytetty, sekä kuinka nopeaa kamppailu kesti. Pelaajan ansaitsemia bonuksia voidaan käyttää vitsausten tekemiseen seuraavissa radoissa.
Peli sisältää valtavat 1000 karttaa, joissa eteneminen riippuu pelaajan taidoista. Jos pelaaja voittaa vihollisen vain niukasti, etenee pelaaja vain kartan tai kaksi. Jos pelaaja pyyhkii vihollisen totaalisella tuholla kartalta, etenee pelaaja useita karttoja kerrallaan.
YouTube video Populous II pelistä

Populous II: Trials of the Olympian Gods

,